True Sport
True Sport is designed to give people, communities and organizations the means by which to leverage the many benefits of sport from a platform of shared values and principles.
Through public consultation, Canadians have told us that they want their sport experience to be based on the shared values of fairness, excellence, inclusion and fun.
The key is to be intentional about ensuring that sport reflects our shared values, and that all stakeholders have a positive experience. True Sport's purpose is to create the right conditions for individuals to experience good sport, to value it, commit to it, nurture it and stay connected to it all their lives. 
Below, you will find updated research that we hope will propel you, as a Canadian who cares about sport, to bring True Sport to life in your community. We invite you to reflect on what you, your team, your organization, your business and your community can do to help sport live up to its potential... and find inspiration to transform your ideas into action! 
---
The CCES believes that activating the True Sport Principles – on and off the field of play – will contribute to a positive shift in Canadian sport culture. That is why we have chosen to step forward as a network leader for values-based sport.
---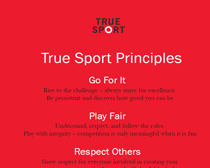 True Sport Principles
Download and display a poster of the seven True Sport Principles to give participants a platform of shared values, which can help us build the sport we want. Available in 15 languages!
Values-Based Coaching: A True Sport Approach
An interactive e-learning course that provides coaches with True Sport information, tools, and approaches to support the delivery of values-based programing.  
Power of Sport Report
The CCES commissioned the Power of Sport: The True Sport Report 2022 to explore how community sport generates social capital and creates benefits across a broad spectrum of societal priorities for all Canadians. 
Good sport does not happen by chance!
If you too believe that good sport will contribute to:
Instilling character (by teaching values through sport, which will last a lifetime)
Strengthening communities (by connecting people through positive sport experiences)
Increasing opportunities for excellence (by increasing the number of confident and competent lifelong participants in sport)
...then visit the True Sport website to access tools, resources, and messaging to help your organization express their commitment to values-based sport and identify and connect with others who are doing the same.